"12 Views of the Tor" - The 2015 Calendar
Sorry, now sold out.
The following galleries may have a few left:
Glastonbury Galleries, Glastonbury
The 303 Gallery, Yandle's Yard, Martock
A2 Gallery, Wells
The Cottage Gallery, Wedmore
If you'd like to find out about my calendars next year, before they sell out, please send me an email and I will add you to my mailing list - I won't bombard you with emails, but I will send you the occasional update about new things and exhibitions so you don't miss out next time.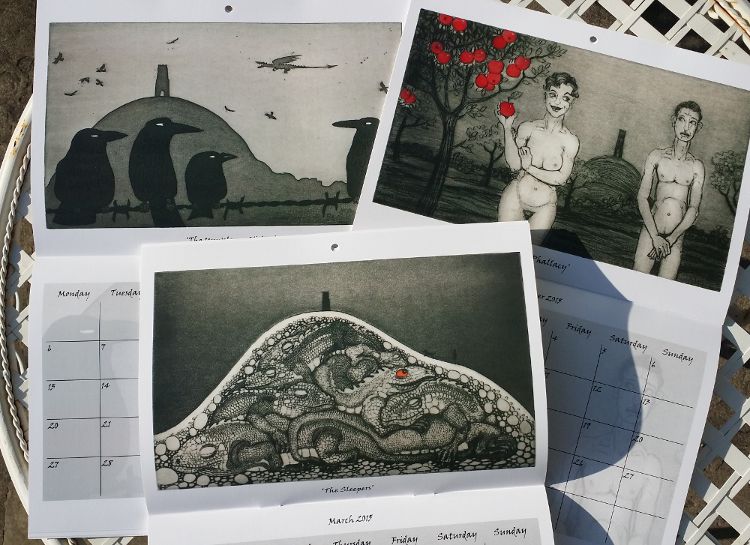 Introducing next year's Calendar: 12 views of Glastonbury Tor

The images in 2015's calendar are reproductions of a series of 12 intaglio prints inspired by Glastonbury Tor, a much loved, mysterious and historical feature of the local landscape. The original prints themselves were monochrome, but to several I have added coloured details. In addition to the actual calendar, limited numbers of the original etching and drypoint prints are available - to see each one go to the 2015 calendar gallery, or contact me for more information.
This is a very special landmark and round here you can hardly escape images of the Tor, however I have drawn far more on ideas and stories than on the actual feature itself. Glastonbury is the original site of the ancient Isle of Avalon of Arthurian legend, so the place is not short of stories, but I have of course made a lot of it all up, because that is what I do. Here be dragons, demons, fairies, Adam and Eve, Herne and Pan, birds, cats and angels... not forgetting an Arch Villain also!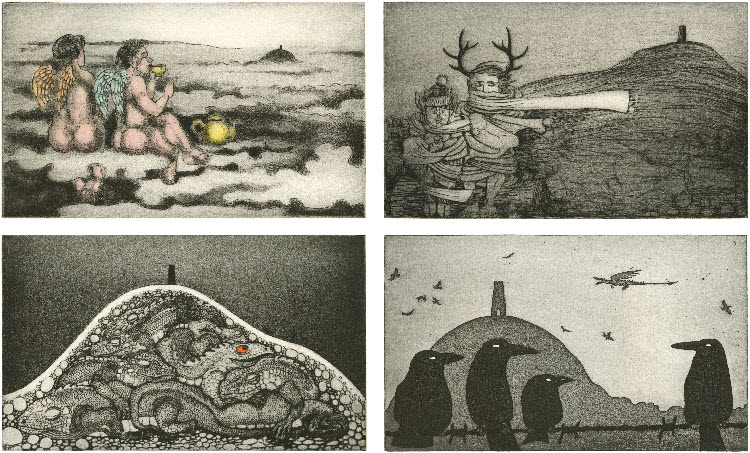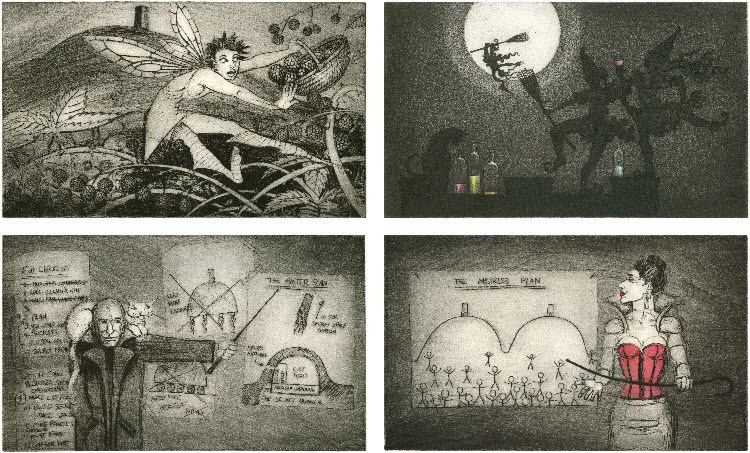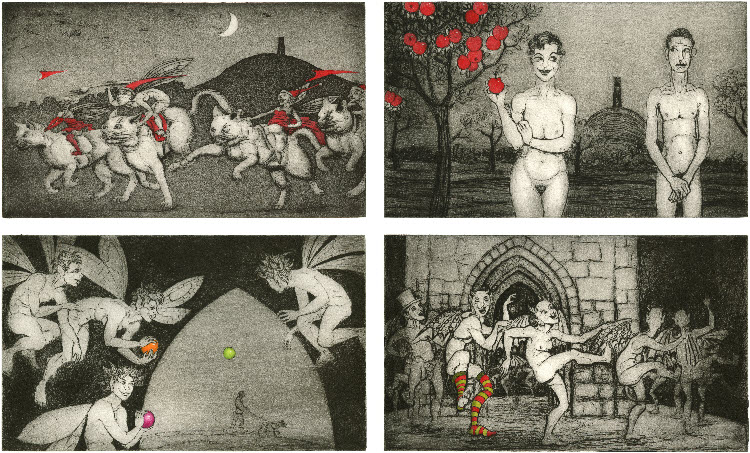 Size: A3 (about 11.7 x 16.5 inch 29.5 x 42 cm) when open, folds to A4
A lovely, large, satin-finish calendar which hangs on the wall, but also folds as a booklet.
Price: £12 (plus shipping and packing).
or Price: £9.50 each if you order more than one calendar at once
If you would like to order any calendars please send me an email, telling me:
How many calendars you would like.
Which shipping destination you require: UK / Europe / Everywhere Else.
How you would like to pay: credit card via paypal, cheque, etc. (please don't email me your card details).
I can then respond with your total including shipping.
The calendar is also for sale in my Etsy Shop and my Dawanda Shop, however it is difficult to put in the discount for quantity on those sites, except by doing a one-off listing on request, so the standard listing in those shops has only the £12 price.
Shipping and packing:
Here are the costs for shipping one to three calendars, If you'd like more, I can happily work out your costs!
Quantity
of calendars
Shipped within UK
Shipped
to Europe
Shipped
everywhere else
one
£1.17
£3.70
£4.75
two
£1.48
£5.15
£7.45
three
£2.01
£6.60
£10.15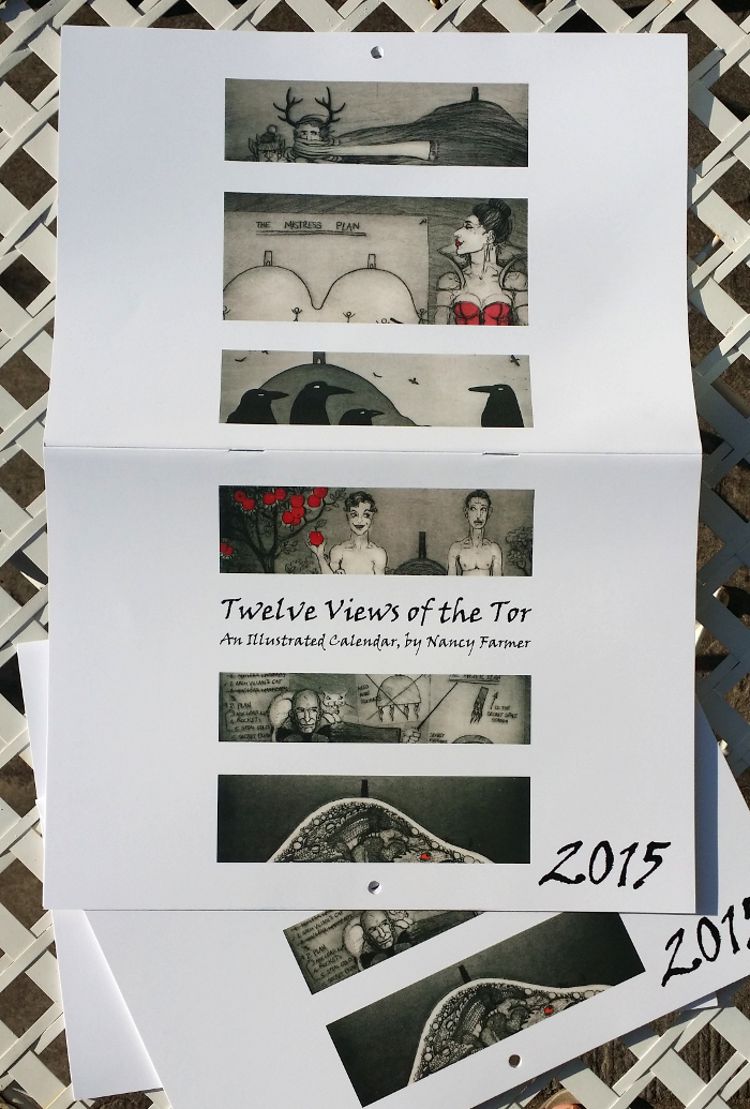 Buying from this site:
I have a shopping cart which will allow you to purchase prints, cards, etc, and some small original pieces. Where no shopping cart button is shown (or if you'd just like more information) please contact me. You can use a variety of methods to pay for things through the website, including credit card, paypal, and by cheque. For more information please see my Purchase Information page.
All images and prints are © Nancy Farmer. Please email me if you wish to reproduce any of these images, or see my permissions page in the 'info' section.